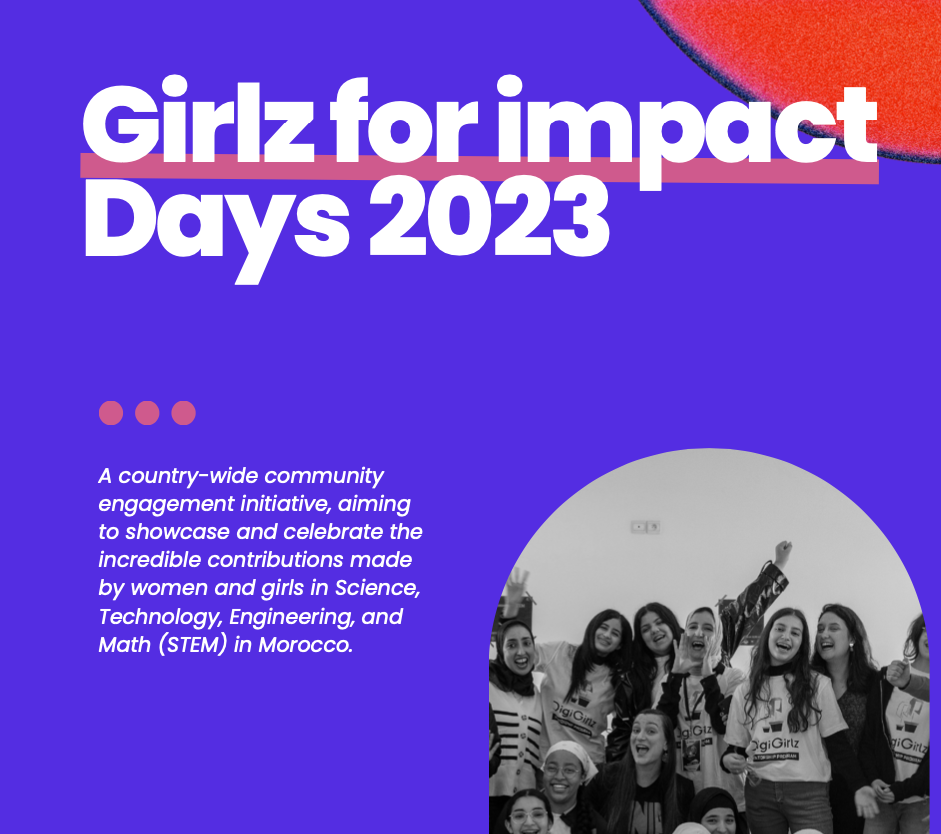 Anoual Association launched the Girlz For Impact Days Initiative on Feb 11, celebrating the International Day of Women and Girls in Science. The two-week event, from March 8-20, 2023, invited people from all over Morocco to participate in STEM-focused activities and projects promoting women and girls' involvement in science, leadership, and social innovation. Volunteers dedicated their time towards community service, and the registration process was open until March 4th, 2023, with guidelines and registration available on the Girlz For Impact website at www.girlzforimpact.com
33      Organized Events
17       Moroccan City
+10    Participating Organizations
1700  Attendees                                                           
225    Participants/Volunteers
 90      Speakers/Trainers
We are immensely proud of the results that we have achieved, and we look forward to building on this momentum as we continue to pursue our mission to empower young future leaders for effective initiative and for making a positive impact in their communities.
"This spectacular event was full of joy, ideas, discovering new things, and also a great opportunity to build a bond with AI." – Rania Lamhimer – Mentee from Bengurir

"It was an opportunity to know ourselves and promote our ambitions, along with the fun atmosphere to exchange experiences and meet the training courses that interest us." – Douae Ait Rahou- Mentee from Ouarzazate

"It was a fulfilling experience to see the enthusiasm and engagement of our team and the attendees. From planning and coordination to fostering collaboration among team members and networking with inspiring women in science and technology,…, I am honored to have played a role in promoting gender diversity and inclusivity in these fields, and I am grateful for the opportunity to lead such a passionate and dedicated team." -Hafsa Akzoun, Team Leader and mentor of DigiGirlz FST Tangier

"In light of Women's history month and within the framework of the campaign Girlz for Impact week launched by the Association Anoual in partnership with the US Embassy, our initiative has managed to touch the lives of around 32 beautiful women of multiple by organizing an initiative to « promote the sense of entrepreneurship among women beneficiaries of literacy programs " – Abir Bakhtaoui- Team Leader and mentor of Digigirlz UM5 Agdal
Investing in the education and development of young girls, especially in STEM, is crucial for building a brighter future for all. At Anoual Association we are committed to continuing this work in the years to come. We thank our partner US Embassy in Morocco for the unwavering support and dedication to this cause. Together, we can create a world where girls have the tools and resources they need to thrive and positively impact their communities.
The Girlz For Impact Initiative is implemented by Association Anoual, an organization founded in 2005 by a group of young activists, that aims to empower young leaders through the power of social innovation and entrepreneurship to bring innovative solutions to social challenges.
This project is in partnership with the U.S. Embassy of Morocco, whose support provides opportunities for young girls to develop the necessary skills to contribute to a better future.