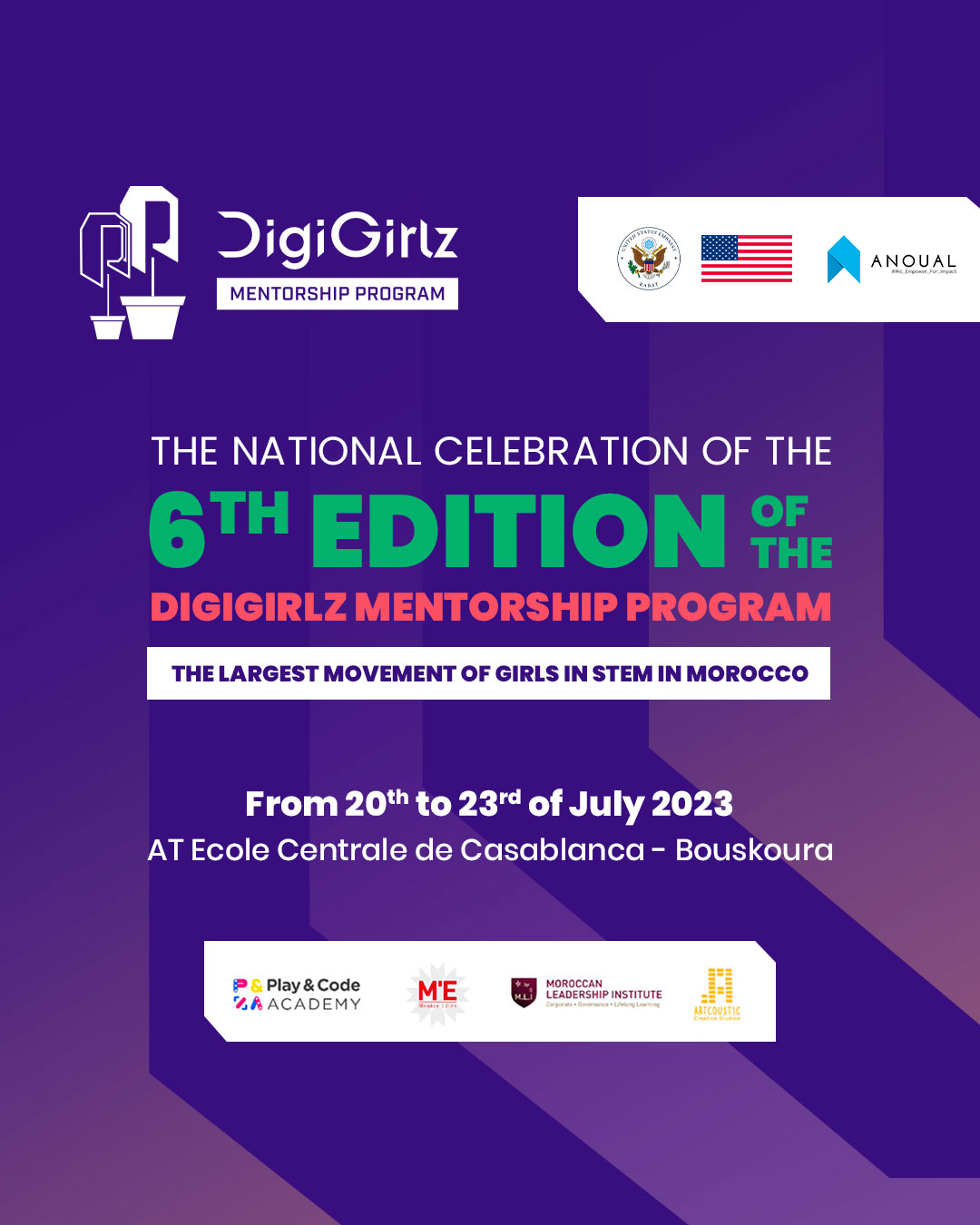 The national celebration of the 6th edition of the DigiGirlz mentoring program
The largest movement of girls in STEM in Morocco
The U.S. Mission in Morocco and Association Anoual proudly celebrate a milestone in empowering young girls aged 15 to 18 years old in STEM fields through the highly acclaimed 6th edition of the Digigirlz mentorship program. The program's national closing ceremony, the culmination of the mentorship journey, will bring the mentors and mentees to create an unforgettable celebration of their accomplishments and the transformative power of mentorship to shape their future.
The national event will take place at Ecole Centrale de Casablanca-Bouskoura on July 20 and will last three days, bringing together 175 mentors and mentees from more than 30 Moroccan cities, who will benefit from different trainings on:
Soft Skills: Mentoring and Leadership
Technical skills: Robotics, Virtual Reality, Artificial Intelligence and Cyber security. 
In addition, the event will bring together high-caliber guests operating on tech and entrepreneurship to create an environment of inspiration and rich exchanges.
During the third day of the event, 21 teams will present 30 projects they have been working on for six months that solve most critical water issues by providing innovative solutions using STEM fields. Only four projects will reach the final competition the same day and will have to present their innovation prototypes in the most attractive and convincing way for the members of the jury.
To date, over 2,000 girls from over 50 Moroccan cities have participated in the DigiGirlz mentorship program, which has led to the creation and development of over 350 projects that have positively impacted local communities across the country.
The DigiGirlz mentorship program is implemented by Association Anoual, an organization founded in 2005 by a group of young women activists, which aims to empower young leaders through the power of social innovation and entrepreneurship to bring innovative solutions to social challenges.
This program is in partnership with the United States Embassy in Morocco, whose support provides young girls with the opportunity to develop the skills necessary to contribute to a better future.