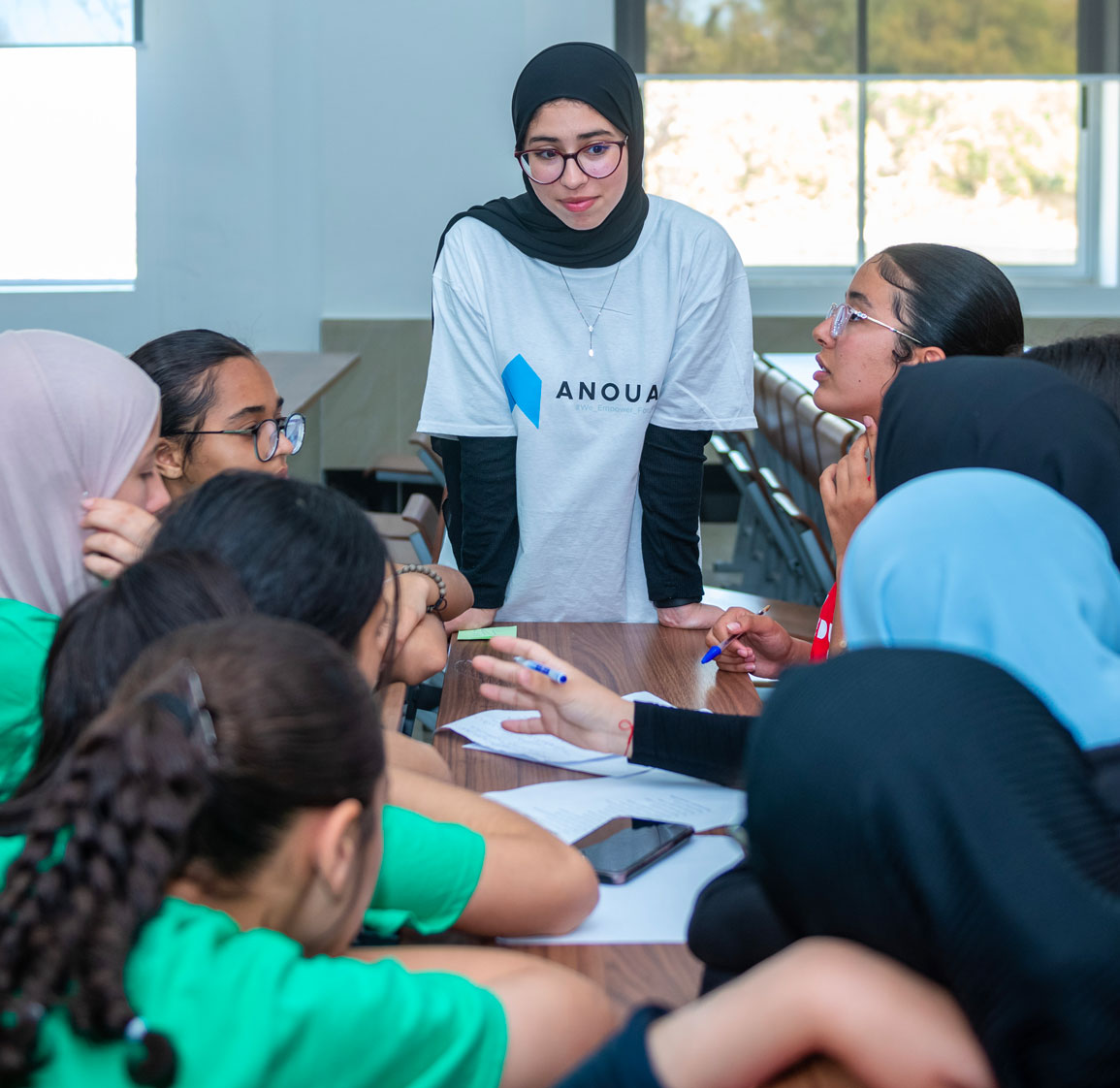 18+
Years of social impact
We Empower for Impact
ANOUAL Association was founded in 2005 by a group of young activists, the organization focuses on creating innovative and impactful projects to support Moroccan youth. Our main focus is empowering young leaders by the power of social innovation and community leadership to bring innovative solutions to the challenges our society faces. On the other hand, we are passionate about collaborating with other organizations to achieve outstanding social impact.
Our main objectives
Empowering Social Change Through Social Innovation and Community Leadership.
See the Change We're Making
Voices of Our Community
Our Impact in Words: Stories of Transformation and Gratitude
Being part of Anoual is a unique privilege, Anoual played an important part in my life and the learnings I gained were key to both succeeding in my education and in my professional career. While in Anoual, and since I joined in 2011 after participating in one of the NGOs programs ,I had the opportunity to travel all over the country and work with extraordinary young people, work with some of our most important international partners and manage projects impacting thousands of people. I always felt trusted and empowered to be at my best. Being part Anoual is more than being part of an NGO for me, it's being part of a big family where many talented people come together to serve our country. I'm currently serving on the board of Anoual as an Advisor and supporting the organization on strategic topics.
Joining Anoual Association fulfilled my desire to serve my community. It's where colleagues became friends and mentors. I grew in leadership, communication, and discovered hidden passions. Being part of the Morocco Future Leaders Program was a highlight, and I've learned that it's never too late to aim high. Anoual's motivation and focus on youth empowerment make it truly special as we work together to empower for lasting impact.
أول ما يخطر في بالي عندما تُذكر أنوال على مسامعي.. التميز.. مدرسة أنوال هي مدرسة الإبداع.. الابتكار.. القيادة.. فضاء مذهل لاكتشاف الذات و إبراز المواهب و القدرات.. و فرصة للتعرف على شباب يتمتعون بالقدرة على التنظير و التسيير.. نسبية الزمن لأينشتاين كانت حاضرة بشدة في المدة الصغيرة التي قضيتها في هاته المدرسة.. ففعلا أحسست بأن الزمن قد تمدد و تبدد لكوني تلقيت الكثير من المعارف الجديدة.. و تعلمت و تعرفت على العديد من المجالات و المهارات القيادية و التسيرية في العالم الجمعوي.. شكرا أنوال.. لكِ كل الحب ❤
Mon histoire avec association Anoual a commencé bel et bien avant mon adhésion définitive à l'association puisque j'étais une participante dans une panoplie de programmes organises par l'association.Ce qui m'a permis d'interagir avec les anciens membres qui sont devenus petits à petit mes amis qui m'ont poussé grâce à leur esprit de partage et d'entraide à découvrir l'importance et l'agréabilité du travail associatif qui représente aujourd'hui une passion que je ne peux plus abandonner.
ANOUAL is a wonderful NGO that strives to empower a whole generation of youth Moroccan leaders. I enjoy being part of the Digigilz Morocco team. Our work is so meaningful and enjoyable, our time and effort are well invested and we do make an impact!
DigiGirlz Mentorship Program
The DigiGirlz Mentorship Program is a mentorship program that aims to empower high school girls by connecting them with university students interested in the STEM field. The created network works together as teams of mentors and mentees to develop their skills and design a solution using technology to one of the most urgent social challenges in their communities.
Let's support us to empower them
OUR IMPACT IN NUMBERS